Prominent in a white blouse and a protective hand on a relative's knee is my great-grandmother Rosa Fischer. This family wedding photo probably dates to the 1930s. Originally from Russia, Rosa's parents were Naphtali and Bella Fisher. I haven't yet found out anything about her background or journey to the UK.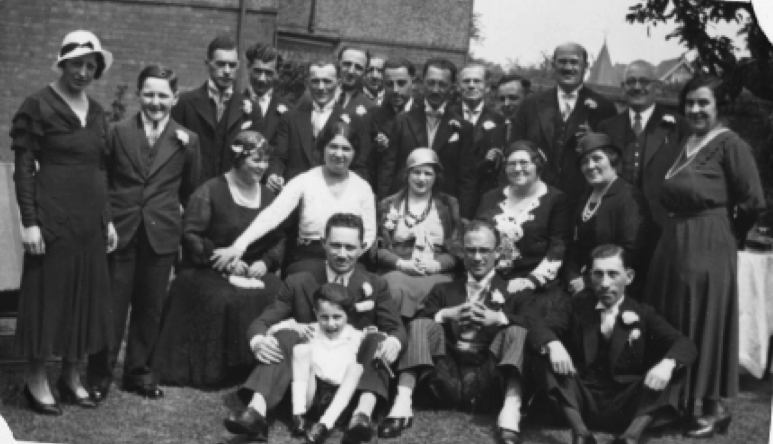 Pogroms
Whatever happened to her in late 19th-century Russia, the time of the pogroms against the Jews, it was probably bad. When I ask the most senior members of my family about what they heard about life in eastern Europe from their grandparents, they say 'nothing'. The past stayed firmly in the past.
After settling in the UK, Rosa married Harris Skolnik, and life become more comfortable.
Her husband Harris had been conscripted into the Russian army at 14. He played the clarinet in the army band, which must have been less risky than fighting. And he managed to get out.
Successful shop
Harris made his way from Russia to the UK at the turn of the 20th century, arriving with nothing. At that time, many migrants were able to work their way up. Highly ambitious, he set up a shop in East London that became very successful. His grandson Stephen recalls the store at 210 Commercial Road: 'I visited it quite few times – it was very big and stacked with rolls of wool – it was always the same colours – black, brown, navy and mushroom.'
Harris was naturalised in the UK on 28 October 1910, by which time he was married to Rosa and had two children, Isaac (2) and Beila (4 months) – my grandmother. He was registered as a woollen goods dealer. Business prospered, and Harris became wealthy.
Wealthy in Willesden
Once he had made his fortune, the Skolniks moved to Willesden, where Harris bought a large house. He lived in style, with a housekeeper and a chauffeur for his American car. Their granddaughter Roz recalls that the family were 'very snobbish' and that the 'posh car with a chauffeur . . . was a little inappropriate . . . for King Edward Road, Willesden at that time.' Rosa enjoyed a life of luxury, with beautiful jewellery and holidays abroad – she never had to lift a finger to do housework.
It seems Harris and Rosa were determined to forget their roots and become as British as possible.
A nervous disposition
Despite the ostentatious lifestyle, Rosa was unable to completely escape her history. Living a sheltered life, she never learnt to speak English properly and was known for her nervous disposition. Her daughter Freda recalled that people could never tell Rosa bad news 'or she would go upstairs and vomit in the bath' – a habit she passed on to Freda.
What frightening experiences might have led to this extreme reaction? Looking back, Rosa's granddaughter Roz thinks 'it may well be that she was quite traumatised and missed relatives and Russia. Her nervous disposition was definitely passed down the generations. She was kept in her place by my grandfather who was a bit of a bully. She was kept as a child in a way – always very protected and spoilt with gifts.' Rosa was not always unhappy though. Roz says her grandmother got a lot of pleasure from her children – Freda, Bea and Morry all developed a great sense of humour.
Yet Rosa's hidden traumas were never addressed, and she died from cancer at the untimely age of 53. She'd never told a soul she was ill and her illness went untreated.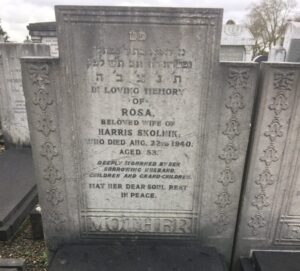 One hundred years later
I was reflecting on the trauma of forced flight as I read The Beekeeper of Aleppo, a powerful novel by Christy Lefteri. Nuri and Afra are forced to flee Syria and endure a lengthy and traumatic journey to the UK in the hope of claiming asylum. While travelling, they are still trying to process the catastrophic circumstances they have escaped from, and their devastating personal losses.
I imagine that my Syrian friends had similar harrowing experiences. Of course, I never ask them how they fled or what happened on the way. It is up to them if they want to share their stories.
What I do know is that refugees are some of the toughest, most audacious and courageous people on earth. Today, some with connections in the UK attempt to reach our shores in flimsy boats, risking their lives for a chance of sanctuary. Like my great-grandparents, they simply want to start a new life and become part of British society. They probably won't want to talk about the past to their children and grandchildren – and who can blame them?